I put the sun filter on mine… I need all the help I can get

You are beautiful and that picture is a true likeness filter or no filter.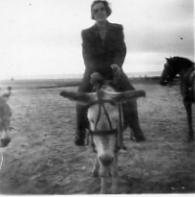 Me … at Blackpool beach about 1910. Okay, I fibbed … I was trying to be PC. I'm really at the rear of the caravan, and one of Lawrence of Arabia's groupies.
wow! I've got one of me on a donkey, weston super mud, circa 1910. Must dig it out.
Summer, sincere apologies. I think I need to explain my no filter hashtag.
I put the hashtag on because my picture looked seriously horrible and I didn't want to be judged too harshly. So I gave context because it was no makeup.
However, I very quickly lost my nerve and I deleted the picture but not the text - my bad!

By the way, you look stunning and I've seen other pics of your reflection previously!

See, that's why I deleted it. Mugshot

It looked very presentable to me.

You're such a gentleman. Thank you

Sorry for the escape route.
You're a handsome young man there Visitor.
The hills in The Braes of Angus.
Yep. I stuck the legs on after my uncle got his fun out of me.
Seeing some of your pics above, I'd love to see then and now pics of you all - am I the only one here that finds that kind of thing fascinating?

I like then & now pics too Azz.
Tony & me on our wedding day in the top picture and 50 years later in the bottom picture.
Aww you look just as happy and in love now as you did then, and look at you Carol - you haven't aged a day!!