Looks like he really is going .
Indeed he is!
A No 10 source said Mr Johnson had spoken to the chairman of the Conservative backbench 1922 Committee, Sir Graham Brady, and agreed to stand down, with a new Tory leader set to be in place by the party's conference in October.

A No 10 spokesman said: "The prime minister will make a statement to the country today."

The confirmation came shortly after Mr Johnson's newly appointed Education Secretary Michelle Donelan resigned following just 36 hours in the post, and new Chancellor Nadhim Zahawi told the prime minister to "go now".

Defence Secretary Ben Wallace also confirmed he had withdrawn his support for the PM, and earlier, Northern Ireland Secretary Brandon Lewis resigned from his post.
Much ado will ensue …
I am at this very moment watching the report on our 7pm news.
Very disappointing. Now what will we have to keep us amused in between floods?
Boris needs to " get exit done"…
… but wait … he will still be prime minister, he says, until the autumn.
The job he is resigning from is Conservative Party leader.
He can't even be honest where his resignation as PM is concerned. He truly is disgusting.
Scotland's First Minister Nicola Sturgeon questions the sustainability of Johnson staying on until the autumn, and says he was always "manifestly unfit to be PM".
I suppose everybody will be jumping on that bandwagon now …

Sir Keir, of course, has been on the bandwagon for some time:
Labour leader Sir Keir Starmer said it was "good news for the country" that Mr Johnson was stepping down, adding: "It should have happened long ago."

There has been intense pressure on Mr Johnson to quit after more than 50 resignations from all levels of government, and waves of backbenchers appealing for him to go.
Events have proven correct.
I have never understood why anybody ever thought this man was suitable to be a Prime Minister.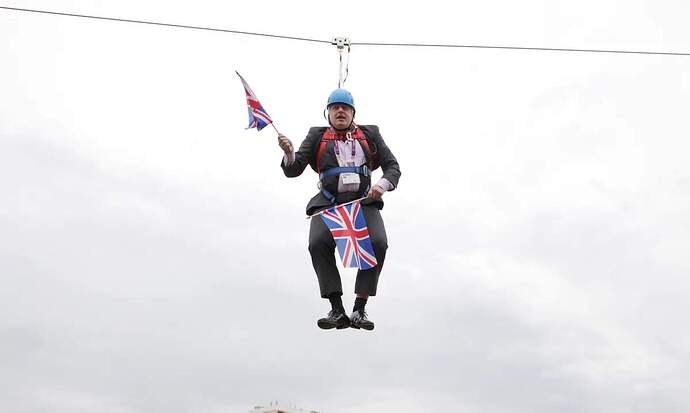 …but then again someone appointed Alec Douglas Hume
Only a few days ago, the Queen was spotted enjoying a private break at her Sandringham Estate as Her Majesty had some well-earned rest after the busy Platinum Jubilee festivities just a few weeks before.

It has now been revealed that this summer retreat has been cut short for the Queen as she has headed back to Windsor Castle and was having crisis talks with former Prime Minister Boris Johnson, as a huge number of government ministers handed in their resignations.
HM has seem them come … and she's seen them go …

Who ever replaces him, needs to remember the last few day's, it could happen to them. Its not about the policies its about the individual .So if policies don't change why change the personnel. If Jonson really wants to leave them in the shite he should go to the queen announcing an election and announce he will not be running to stand as an MP.
Spot on!! They must scrap all this zero nonsense date and remove all the greening up levies on our fuel bills.
I read somewhere that Theresa May could step in for the intrim. She isn't self-serving, she doesn't want to be PM, and yet knows the job and what needs to be done.
The next election starts here imo, who can lead the tories to win with policies acceptable to the electorate, bearing in mind they are behind in the polls, war in Europe, hyper inflation, cost of living crisis, etc .who wants that ? 2019 was about brexit , what will the next one be on .
Liz Truss is scooting back from Indonesia pdq, and will make a statement of her own later.

Hi
Ms Truss is even more divisive than Boris and totally fixated on Brexit.
We need someone to move forward on the things that matter now.
We have no more free movement yet immigration from outside the EU is increasing.
She's also another useless disaster.
I agree on both counts. I don't know quite why she feels she needs to make a statement though…nobody else has. (Well not those who are still hanging on to Boris's shirt tails)
Hi
Boris is only resigning as Leader of the Conservative Party, not as Prime Minister.
He is as slippery as ever.
He wants to stay on as PM until the Party Conference in October.
He is just pushing the date back and back and he could well change his mind in the next few months.