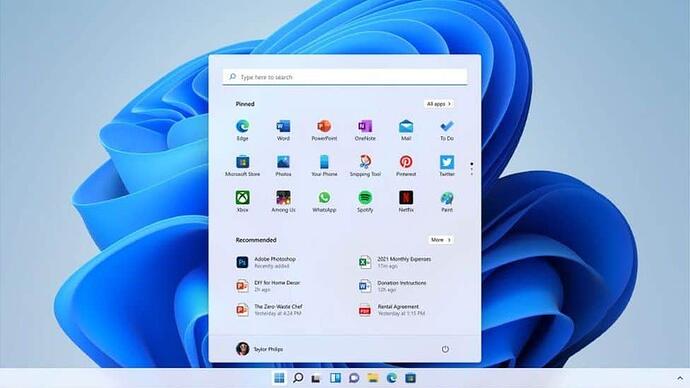 Windows 11 has some significant design changes, along with some alterations on how the system works under the hood.

By default, the Start menu is centred on screen, along with icons in the taskbar. When clicked on, the Start button opens a menu of frequently used apps. In some ways, it mimics the appearance of a smartphone app menu or launcher. Microsoft has also dropped the "tiles" which were present on Windows 10's start menu.

When Windows 10 came out, Microsoft declared it would be the "last version" of the system. That has obviously changed.

Across the operating system, the design favours rounded corners, and has simplified most menus and folder views. And there are new, improved options for arranging windows and "snapping" them into grids.

Widgets, a major selling point of 2007's Windows Vista, also make a comeback - but instead of "floating" on the screen where the user puts them, they live in a sidebar on the left, and are also linked to Microsoft services.

Some changes go deeper than the interface and design.

System integrations for Microsoft Teams - replacing Skype - and the Xbox app both feature heavily in Microsoft's advertising.

The Microsoft Store - the Windows version of an app store - has been completely redesigned and will allow third-party apps to sell inside it, without taking a substantial cut.

And one new feature which raised eyebrows in the technology world was that Windows 11 would run Android smartphone apps through the Amazon app store.

Early adopters have reported that the in-built search function of the new version is significantly faster on most devices - but also that it favours Microsoft's own services, Bing and the Edge browser, when delivering web results.

For gamers, Microsoft promises that its new drive technology - Direct Storage - will lead to much better loading times in games by allowing a graphics card to access storage drives without going through the central processor.

But that feature, like some others, needs newer hardware to work.

As a result, not every computer will see all the potential advantages to upgrading - and some machines may not be able to upgrade at all.

The minimum requirements include a type of security chip - called a TPM - only installed on modern computers.

Windows 10 will continue to be supported and receive security updates until October 2025.
Well, I'm not rushing to install it …