each box contains pics to a famous person can you guess them ?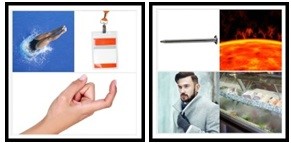 4 Kim Kardashian
5 Dali Lama
7 Penelope Cruiz
1.Donald Glover
2 - Ed Sheeran
3 - Dolly Parton
4 Kim Kardashian
5 Dali Lama
6. Stephan King
7 Penelope Cruiz
8. Kevin Hart
10.Nelson Mandela
9 correct answers just No9 left to guess
looks like one of the most famous englishman has you all stumped
Well, the only famous Englishman I know is Richard Branson

Thanks Feey, much appreciated
Is that a cricketing clue per chance ?
ok just one clue the finger is saying "come here i want you"
I haven't a cooking clue Feey
Thanks though
All I can think of is
Alexander Graham Bell…
no sorry @Minx not bowie this man was awarded an OBE in 2003