Done nothing again, except watering. Too hot for me to be out there for long.
After that excessive heat today, I noticed this evening that quite a few plants have been badly scorched, even though I have watered every day. My Pieris is particularly badly scorched, and even some Rose leaves. And a young Japanese Azalea has burnt to ash nearly.
I do hope they recover.
Anyone else noticed this after todays intense heat?
yes my Fushias,i looked out and saw they had shrivilled up, the leaves were dry some brown . i watered them last night , I think i saved them .
Some of the hardy geraniums have shriveled up but they should be ok and one of the roses needed watering yesterday.
Today it's cooler so i did some deadheading and watered the polyanthus, might lose some of them.
Here's a video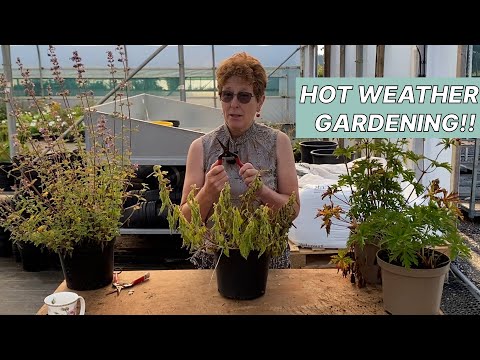 Yes, one of my Fuchsia's has gone like that too, Eliza, poor thing doesn't look good this morning, but we'll see how it goes.
I liked that video Logan, thanks.
And what a nice change from all the American videos I keep seeing, where they yak and yak, but actually do very little!

Yes, I have watered everyday too. I use the sprinkler and it takes three goes to cover it. Also my wife waters all the pot plants but still some of the flowers are still wilting. And the new turf at the bottom of the garden is not in such good shape. Bring on the rain!!
Too true.

They are talking on the radio about people's compost heats spontaneously combusting now!
Thanks Mups, i watch YouTube all the time about different people gardening and that one came up as a recommendation.
Back to normal now in the garden now that it's cooled down. Deadheaded the roses and other plants a lot of watering.
My produce garden has been decimated by the 40° heat and I have lost all sorts of fruit and veg. The blackberries have literally cooked before they had a chance to ripen and looks like I've lost the entire crop. The last of the blackcurrants have shrivelled and dropped off, as have most of the blueberries. It was 50° in the greenhouse on Wednesday, which cooked most of the ripening tomatoes and the sweet peppers, of which I might rescue perhaps half a dozen. In the veg plot the runner bean plants have shrivelled and looks like they won't recover, although I'm doing my best to rescue them, and even the parsnip tops are dying off. Honestly I have never seen the garden in such a sorry state, the only thing that I am thankful for is that I grow autumn raspberries which are only just coming into full growth, so I may be lucky with those, but fingers crossed, early days yet…
That's terrible Barry, down here in the Midlands went up to 38c
All of my currants, blueberries, blackberries, gooseberries, plums and apples are doing well.
Hope that you can get a good crop of autumn raspberries.
I'm in the Milands too @logan1 in North Notts, I guess the garden must be more exposed then but whatever was to blame it really is looking a bugger…
Nothing, it's been raining/drizzling non-stop since about 6am.
Barry sorry about that, should have said that i live in the west midlands Redditch Worcestershire.
Picked up poo bags. Spayed weed killer. Usual tasks.
That's awful Barry. So sorry after all the work you put in.
I am Midlands too, and that heat on Tuesday has scorched many plants in my garden. It was just touching 40c here.
My Runner beans have survived, and the tomatoes, (mine are in one of those zip-up grow houses, so I opened the whole front up.
Rose leaves all burnt, Camillias, some of the Dahlias, Fuchsias, lots of plants scorched. Never seen it like that before.
The farmers must be very worried about crops this year.
Just wallowed in the mud.
Weeded part of the garden where there's 3 roses that are struggling and then i watered them and put a lot of mulch around them.