each box contains 2 pictures put them together to come up with one word answer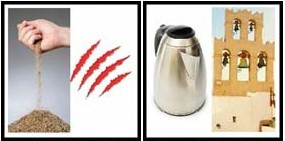 Sorry Feey


I'll give it break and come back
Hi Feey
Can we have quick update on the correct/incorrect ones ?
Cheers
sledgehammer
strawberry
hamster
hairspray
kettlebell
the other pics are too grainy to make out the image on my device
I thought that too but it looks like madonna or something
I thought so too… wild guess. I'm afraid it's Not really my night tonight…
Feey
you still there ? or you gone to bed ?
Don't leave us in limbo matey .
I wont be able to sleep tonight

Bandage
…
9 Santa Claus ? … sand … claw marks.
…
Looks like angry man = mad + chick could be … Magic. ?
Sledgehammer
Strawberry
3 Bandage
Hamster
Firefly
Hairspray
7.Coffee
8 Magic
9 Santa Claus
Kettlebells
sorry yes i did fall asleep for a while all are now guessed correctly this round is now finished