Firms such as YouGov and Ipsos Mori regularly question MPs on behalf of businesses and charities to find out the opinions of policy makers.

Since the 2019 election, 123 MPs have spent 695 hours carrying out 1,040 surveys - earning more than £116,000.

They are not breaking conduct rules if the earnings are declared, but it comes amid renewed scrutiny of outside work.

According to BBC analysis of the register of members' interests, the majority of the participants from this Parliament - 69 in total - kept the cash they earned, while 24 gave it all to charity.

Others donated the money to their local parties, used it for office or campaign costs, or did a mixture.

Of the MPs who took part in surveys, 60 were Conservatives, 46 were Labour and 12 were from the SNP. One MP each from the Liberal Democrats, the DUP, the SDLP and Alba also took part, along with one independent member.

The research showed Patrick Grady, SNP MP for Glasgow North, earned the most since the last election, being paid £3,560 for over 20 hours work - the equivalent of £176 per hour.

His SNP colleague, the MP for Angus, Dave Doogan, spent the longest doing the surveys - more than 35 hours, averaging £78 per hour.

But the highest hourly rate paid to an MP was £354, with Labour's shadow justice minister Alex Cunningham earning £1,950 for just over 5.5 hours work - donating the money to his local party.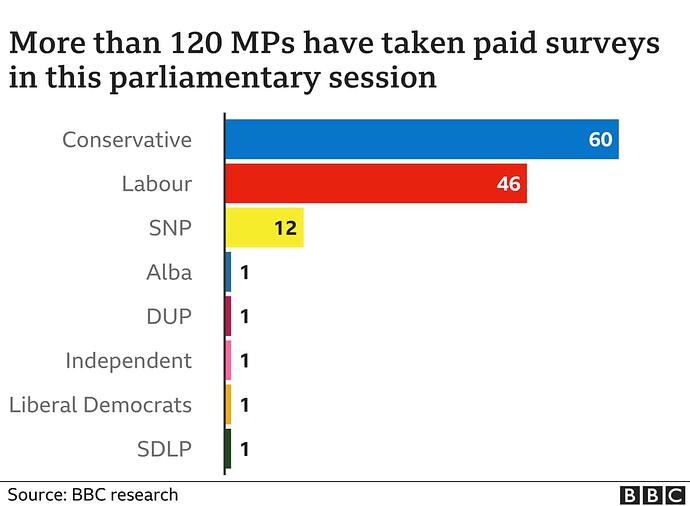 Unsurprisingly, Tories lead the pack.