That's a nice picture RS.
Can you say where it was taken?
Mups
That was taken about 2 pm on the 24 Jan 2010 at Chester Zoo. Have to say it took some digging but eventually found the photo and data
Nikon d300 camera
Nikon lens 70-300mm f4.5-5.6 G IF VR ED
shutter speed 1/160 sec
focal length 230.mm
IS0 500
auto white balance
aperture 5.6
Why don't you use Bulk Rename Utility (BRU) to rename your photos to some meaningful name? You could automatically include the date and any of the EXIF data.
I just use the date myself for example for that photo I would name it:
100124 001 Chester Zoo Leopard
The first number is YYMMDD so the photos are in order but you could use any format you like including using the time taken rather than a number (001)
https://www.bulkrenameutility.co.uk/
Well worth using and it's British!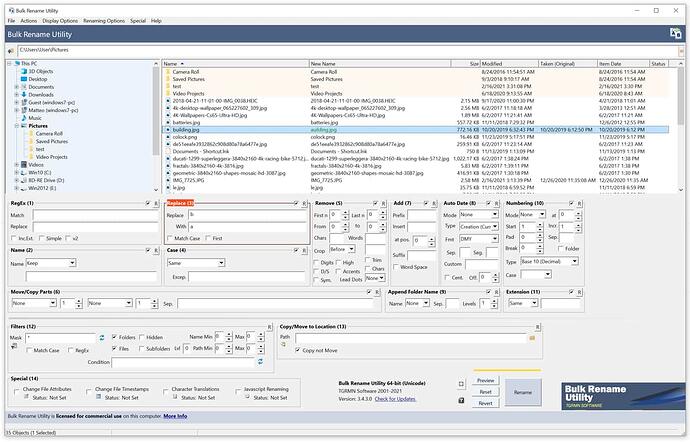 What a great photo, realspeed.
I expect you were glad it wasn't looking at you like that.
Bruce I use Kuso exif data (different photo) which give more information. Also if I used BRU with the thousand of photos I have on computer I would be long dead before I finished
Standard Information
Make: Panasonic
Model: DC-TZ95
Software: Ver.1.1
ImageSize: 5184x2920
ComponentsConfiguration: Y, Cb, Cr, -
CreateDate: 2022:08:03 07:16:11
ModifyDate: 2022:08:03 07:16:11
DateTimeOriginal: 2022:08:03 07:16:11
ExposureTime: 1/60"
Aperture: F3.3
MaxAperture: F3.3
CircleOfConfusion: 0.005 mm
HyperfocalDistance: 1.13 m
ExposureProgram: Program AE
ExposureBiasValue: 0
CompressedBitsPerPixel: 4
MeteringMode: Multi-segment
Flash: Off, Did not fire
ISO: 125
WhiteBalance: Auto
FocalLength: 4.3 mm
FocalLength35efl: 4.3 mm (35 mm equivalent: 26.0 mm)
SensingMethod: One-chip color area
SceneType: Directly photographed
ColorSpace: sRGB
NoiseReduction: Standard
Contrast: Normal
Saturation: Normal
Sharpness: Normal
GPS Information
Other Information
AFMode: Unknown (0 49)
About: uuid:d874e788-25f8-4d1d-947a-6e77822b5d6a
AdvancedSceneMode: Auto
Audio: No
BabyAge: (not set)
BitsPerSample: 8
BlueBalance: 1.772461
BurstMode: Off
ColorComponents: 3
ColorEffect: Off
Compression: JPEG (old-style)
ConversionLens: Off
CustomRendered: Normal
DigitalZoomRatio: 0
Directory: C:\Users\charl\OneDrive\Desktop
EncodingProcess: Baseline DCT, Huffman coding
ExifByteOrder: Little-endian (Intel, II)
ExifImageHeight: 2920
ExifImageWidth: 5184
ExifVersion: 0231
ExposureMode: Auto
FNumber: 3.3
FOV: 69.4 deg
FileModifyDate: 2022:08:03 07:16:10+01:00
FileName: P1051030.JPG
FileSize: 6.9 MB
FileSource: Digital Camera
FileType: JPEG
FirmwareVersion: 0.1.1.0
FlashBias: 0
FlashFired: No
FlashpixVersion: 0100
FocalLengthIn35mmFormat: 26 mm
FocusMode: Auto, Continuous
GainControl: Low gain up
ImageHeight: 2920
ImageQuality: High
ImageStabilization: On, Mode 1
ImageWidth: 5184
InternalSerialNumber: XIR2011260259
InteropIndex: R98 - DCF basic file (sRGB)
InteropVersion: 0100
LightSource: Unknown
LightValue: 9.0
MPFVersion: 0100
MacroMode: Off
MakerNoteVersion: 0154
MaxApertureValue: 3.3
OpticalZoomMode: Standard
Orientation: Horizontal (normal)
PanasonicExifVersion: 0414
Rating: 0
RedBalance: 2.12207
ResolutionUnit: inches
Rotation: Horizontal (normal)
ScaleFactor35efl: 6.0
SceneCaptureType: Standard
SceneMode: Intelligent Auto
SelfTimer: Unknown (0)
SequenceNumber: 0
ShootingMode: Intelligent Auto
ShutterSpeed: 1/60
SubSecCreateDate: 2022:08:03 07:16:11.332
SubSecDateTimeOriginal: 2022:08:03 07:16:11.332
SubSecModifyDate: 2022:08:03 07:16:11.332
SubSecTime: 332
SubSecTimeDigitized: 332
SubSecTimeOriginal: 332
TextStamp: Off
ThumbnailLength: 5172
ThumbnailOffset: 30720
TimeSincePowerOn: 00:01:35.15
TravelDay: n/a
WBAdjustAB: 0
WBAdjustGM: 0
WBBlueLevel: 1815
WBGreenLevel: 1024
WBRedLevel: 2173
WorldTimeLocation: Home
XResolution: 180
YCbCrPositioning: Co-sited
YCbCrSubSampling: YCbCr4:2:2 (2 1)
YResolution: 180
I am at a bit of a loss here but what does that have to do with the name of the photo file?
I think I found it

I'm on a Chromebook so the storage system isn't great, never mind programs to add info such as this. I usually name it something simple and the date and put it on a flashdrive.
Yes, I realise that but I pointing out a program that makes the file name something useful and does it in bulk for many many files. In part it can use some of the EXIF data
Ahh I see now, sorry I misunderstood!

Bruce that is ok with a few photos but not the thousands already on my computer,it would take years to do
That's actually the point RS, it does thousands in a few seconds - the clue is in the name BULK Rename Utility.
It even does subdirectories, adds numbers, dates taken, information from the folder name, EXIF info etc, if can't rename all your photos to something meaningful in a few seconds you get your money back.
Perhaps you should stop trying to find excuses not to use it and actually try it. It comes with a good manual but takes a little while to get a handle on all its facilities because there are so many. I am pretty good at using it now so can help.
Even if you merely rename the file names to date and time taken it is far more useful than DSC1234