Years ago I copied it and gave it to someone as a gift couldn't do it again
That is an amazing oil painting, I read it was completed in 1866?
I've never seen such exquisite work…it's quite Mind blowing actually, just looking at it.
I love Landseer - not everyone likes Victorian painters - but he's has such a gift for animals,
he also did the Lions in Trafalgar Square .
His horses are almost as good as yours!
If only they were…Here is another The shoeing of the Bay Mare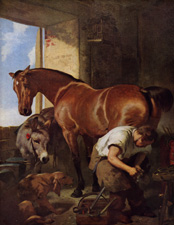 @Muddy - I love the shine on the mare's coat!
I meant if only mine had a tiny fraction of Landseers brilliance . Yes the shine is amazing and the wrinkles in her skin and her lovely head curious but docile as she stands unhaltered for the blacksmith .
He is a magnificent oil painter, I have been looking at this paintings, I will post some here, when my son shows me how.
I've never seen paintings like that in my life, i can't see anyone in his time who can top his oil paintings.
Especially of animals!!.