Jacket potato what's going on yours?
Mine Cheesy Coleslaw
Hi
Nothing, jacket potatoes are a thing of the past for me now, much too much potassium in them.
It is a shame, I love them.
Excellent choice Scot

Cheese, cheese and beans, or chilli
Or sometimes just lots of butter
Just butter and salt…Nothing else

Butter, prawns, and homemade Marie Rose sauce.
or
Homemade cheesy coleslaw
Garlic butter. Cheese. Cheese n beans.
Usually cheese and beans, but sometimes prawn and crab - with a blob of garlic butter.
They had jacket potatoes at Harry and Meghan wedding party!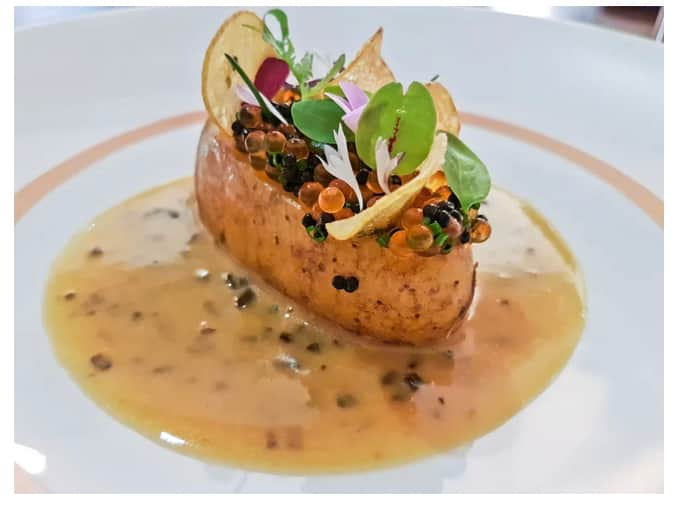 Well, that's a charlotte potato, with butter and seaweed on a puddle of beurre blance, topped with herring and trout roe and prettied up with leaves and flowers and a fermented salt and vinegar crisp!
Depending on my mood…
Tuna n mayo,
Veggie Chilli,
Cheesy beans or
Cauliflower/broccoli cheese
Nomnom!
First and foremost olive oil rubbed into the skin with a generous pinch of Maldon salt and freshly ground black pepper.
As for the filling, the sky's the limit!
Habitat used to sell a galvanized steel band with several vertical steel spikes, you'd stick your spuds on the uprights and the steel would conduct the heat to the centre of the spuds.
These day I just microwave the large potatoes for a few minutes before slamming them in the oven, a similar result but perhaps somehow just a tad joyless by comparison
Salt, pepper and a good dollop of real butter. Or sometimes grated cheese (after the butter has soaked into the spud
).
I cook them in my Ninja on air fryer mode - they come out beautifully crispy and fluffy inside. But you know, I have never been able to replicate my mum's jacket spuds. She cooked them in the oven, no microwaves or air fryers in those days, and the skins were always so thick and crunchy. I tried leaving them in the oven for much, much longer than usual, and they still weren't like hers. Maybe it was the type of potato? That's all I can think

I have a few favourite toppings - the top one is my favourite for a meal but I do like them with just a bit of butter as a snack.
Cottage Cheese with beetroot or pineapple, served with a side salad.
A ladle of veggie Chili
Baked Beans
Grated Cheese
A knob of butter.
How long do you put them in your air fryer for, Sheba? I haven't had them in months due to cost. I'm not heating up the whole oven for 1 potato! If I can do a couple of smaller ones in the air fryer, then great!
Cheese and beans or prawns.
I usually do them for about 45 minutes, depending on size of course. Just prick them as usual, and put them in. Don't do what I did the first time, and brush them with olive oil. Yuck, they just tasted like fried jacket spuds

Btw, I also do 'roast' potatoes in the Ninja. Peel and cut them to size, then toss in a little olive oil with whatever seasoning you fancy - I often use minced garlic, celery salt and chopped parsley. Air fry for about 20-25 minutes, turning/tossing halfway through.
Oh yum! Thanks so much…I'm going to try these through the week!

I like the baked beans with cheese on top, too. Quick and easy as well as tasty.
Yummy.