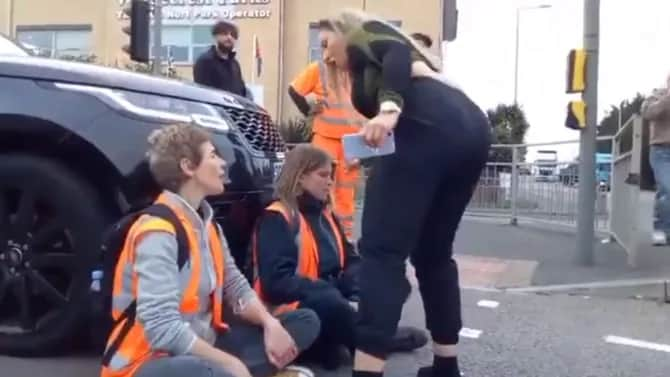 Sherrilyn Speid, of Grays, Essex, was disqualified from driving, handed a community order, and told to pay £240 costs at Basildon Magistrates Court on Friday. The 35-year-old mother had already pleaded guilty to dangerous driving following the incident in Grays on 13 October last year.

The court was told she had to stop her black Range Rover Sport at around 8.30am when she found three climate protesters sitting in the road. In a video of the altercation shown in court, which was shared widely on social media at the time, Speid is seen getting out of her car and shouting at the trio.

"I don't care what the issue is," she can be heard saying. "My son is 11, he needs to get to school today so move out the way and let me get my son to school."

She is then seen getting back in her car and driving into the group, causing one woman to grimace in pain. In a separate clip, the car could be seen jerking forward into the backs of protesters sitting on the road.

Prosecuting, Ashley Petchey, said Speid was "clearly very angry and agitated by the situation".

Defending, Lauren Hebditch argued that Speid is an "inspiring" woman, and was under "severe pressure and stress" at the time, having just left an abusive relationship of 12 years.

Ms Hebditch said it had caused her to suffer severe anxiety, depression and panic attacks.

But despite being in and out of care as a child, she added, Speid has set up a counselling service for vulnerable children and a podcast for working mothers.

Ms Hebditch said a ban would mean Speid was no longer able to shop for her mother who has multiple sclerosis, drive to work, or her son's school.
AFAIK, chairman of the bench Susan Hawkins held back the tears as she said the offence was "serious enough" to merit the sentence and Speid was told she will have to retake her driving test following the one year ban.
Previously:
A mum who made headlines for driving into Insulate Britain protesters has started a new business venture off the back of the incident.

Sherrilyn Speid from Grays, Essex, posted on Instagram that she was setting up a new website, and would be selling customised merchandise under the name 'Range Rover Mum'.

The 34-year-old will be selling hoodies (£36.76), cropped hoodies (£25.82), mugs (£12.54), leggings (£33.19) and indoor cushions (various prices) all tagged with the RRM design.

Now capitalising on her "fame", Ms Speid – who is also a chef, according to her Instagram biography – is selling merchandise.
I was reminded of: