Morning all.
Still windy today.
Last night I refused to take the dog out for her late walk so put her in the garden. She was out there ages, leaving me to watch from the back room window as my security light flickered on/off/on/off. I only know she did a wee (on my request). I will finish my breakfast and get her out.
No specific plans, other than to do a roast meal with a minted lamb swirl. I enjoy this so much I buy whenever I see them in Morrisons, or ask for some to be made up. I asked the butcher in the store furthest away, where I usually can find them, why they are not sold nationwide. He said 'I'll let you into a secret. They can be done, just get the people to ask.' He reckons it is laziness on the part of the store staff who won't do them. I don't remember ever seeing them for sale in London, just here in Lowestoft.
I have some homework to do for the writing group meeting this coming Tuesday. I have a small idea so now I have the PC switched on, might construct something later.
Still have some clearing up to do. If I have a bit of room in my black bin, being emptied this Tuesday, I could maybe find some rubbish in my spare bedroom. I also have a lot of cardboard to cut up (with my Stanley knife) for the recycling bin.
All good fun! Enjoy your own Sunday.
Good morning Jan and all to follow later.
Cool wind here still but sheltered in the woods so we enjoyed our walk regardless, and the sun is just trying to break through so I should get out in the garden for awhile later, happy days…
Have a pleasant Sunday everyone

My local butcher makes those - they are really delicious aren't they?
Morning all, sunny, cold, windy.
Not going out today.
Our Morrison's in Gorleston don't do it, i've asked.
Morning all.
Sunny but with a lot of cloud, and windy too.
Ive got a lot of jobs to get on with this morning, mostly outdoors, then two hospital appointments to later this afternoon for an ultra sound on my knee, followed by an x-ray. Bit of a nuisance, but at least it will save making the journey twice I suppose.
Off to cook my sunday treat first - my bacon & mushroom buttie.

can't seem to shake off this cold I have,yet another diksturbed sleep last night
Morning all,
I've been enjoying the food that got delivered earlier in the week. I'm liking a new (to me) potato chip (crisp) cooked with avocado oil. I can't taste the difference between any other chip, but they're good.
I tried a new soup last night that someone told me about. I really wanted to like it because I like the packaging. The consistency was good. It had a lot of stuff in it, so that was nice and filling. But for some reason, it was bitter and sour, strange tastes for what was in it. I bought two, so I'm going to try it again. Maybe more spices or something added would help it out. I'm hoping to like it. I have a chili and another soup with the same packaging, so maybe those will be good.

I watched the season finale of Master Chef last night. The right person won but I was surprised the judges gave it to that person because the judges can sometimes be biased.
It was a warm day yesterday. I was out trimming a bush at midnight earlier in the week (long story).
I'm hoping for a relaxing day today.
Have fun all.
If you are ever at North Quay or Pakefield branches, ask their butchers.
ST, I adore them!! I now have more than enough in the freezer for future meals, as I don't cook 2 in a meal now, rather, I will do one, or one and a half.
Hi
Good Morning All.
My tall, slim , blonde nurse, aged 6, is coming with her Mum today.
Great fun.
She will feed the fish, clean the glass and then water the indoor plants.
She will then ask for her wages and plot what happens next.
Have a good day all.
Good morning all

a lovely sunny morning here in the SW.
Washing is drying nicely out on the line.
A charity bag was pushed through the letterbox a couple of days ago so I'll be sorting my wardrobes out for items I no longer need.
Enjoy your day folks….
Good morning everyone

a lovely sunny but cold morning.
My son and two little twins have a birthday today, the twins will be 5. I am not going to the party which involves a bouncy castle on the paddock and 30 children.
It is too cold for sitting outside in the wind for hours. The veranda where I usually sit is at the back of the house the party is at the front so I would be on my own.
With Covid still very active around here I won't take any risks .
Better pottering in the garden.
Drove back from Canberra today the highway was pretty busy because it is the last day of the school holiday and tomorrow is ANZAC Day. Travelled in convoy with my daughter and son. She is racing her motorbikes at Wakefield Park tomorrow and my son is back on duty on his ship in Sydney Harbour tomorrow.
We chatted on the CB radios until we parted and went our separate ways.
While I was visiting my Grandkids we played Cluedo (not a game I like that much) but was fun with them however they have lost the dagger from the game so when I got home I made a couple to send to them. I made two because I wasn't sure of the size, one is 27mm the other 30mm.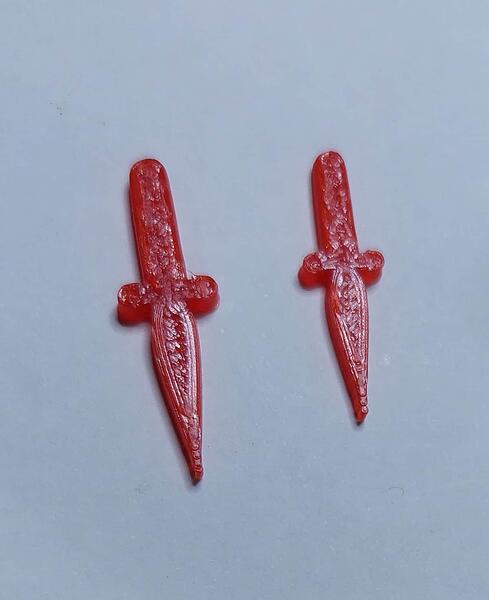 Have a good one