Oooerr!

This won't go down well…
Perhaps he has been 'misrepresented' …

Good, she also wants to rid the country of all the stupid solar panels that are taking up farmland instead of growing crops on it. I'd vote for her just on those two points…


Hi
Solar Panels produce more profit than growing vegetables.
A simple fact of life, people want cheap electricity more than cheap veg.
I think Rishi Sunak's comments have been misrepresented.
There's plenty of rural areas up and down the country that often get forgotten when it comes to funding,
As Richard Holden, the MP for North West Durham said:
"What I want to see is levelling up across the whole country, not just concentrated in urban areas. And that's what Rishi's vision for the country is, that wherever you are, you need the same opportunity to succeed, not just in those urban areas."
I'd vote for that

It doesn't have to be "either / or"
What about agrivoltaics?
Growing crops beneath solar panels is a growing practice.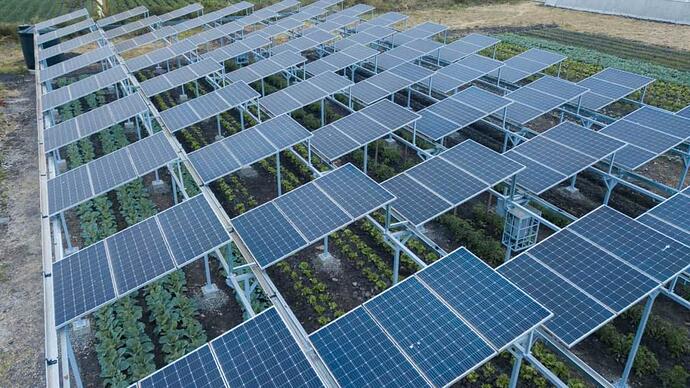 And you can use a field of solar panels for sheep grazing land.
Farmers have to make the most of all resources nowadays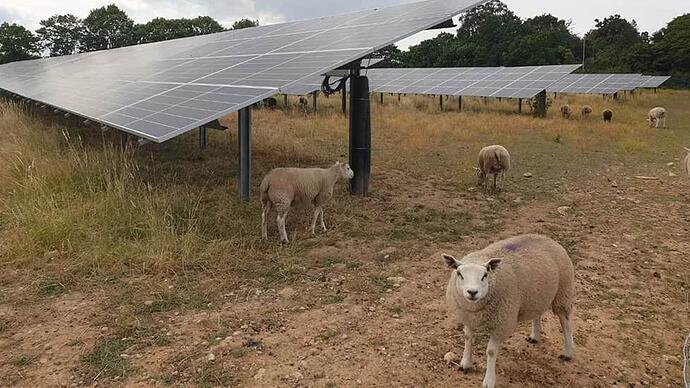 So it's alright to ship food half way across the world instead of trying to be self sufficient and providing jobs for the locals.
And solar panels are not suited to the English weather. Winters only have minimal light just when we need the power most.
Even in summer when the sun is shining all day and the days are longer, they only contribute 4% of the needs…Combined Cycle Gas Turbines have been producing the lions share of our electricity all year. And biomass powered Drax has been chipping in (pun intended

)…And Drax is due to revert to coal because we are having difficulty getting biomass shipped from Canada…And might I remind people that Drax is sat on one of the largest coal fields in Europe…
This is where your electricity came from today…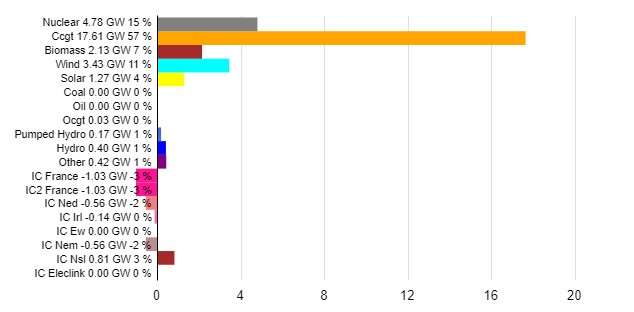 The bottom pic in my last post of sheep grazing in a field of solar panels is in UK - at Castle Hill, Hull, to be precise.
The solar panels provide energy to the local hospital - they need to keep the grass trimmed and it provides grazing land for a local farmer.
Win - Win!
I was impressed with the way they can still make use of the land while installing panels Boot…


However, solar panels in England are not efficient, and they don't supply much power to Hull Infirmary. And even if they did it would be only spasmodic and not to be relied upon.
To install enough panels to make them even slightly useful to the national grid, how much land would they need to cover?
Yeah, I know the solar panels don't provide the total energy needed for the hospital all year round but, during the Summer months, they provide enough energy to cover the daytime demand, which saves the Hospital about £250,000 per month in energy bills - every little helps!
At that rate, the £4 million cost of installation should be recouped in a few years, especially now that electricity costs are increasing so much.
At the beginning of July, it was estimated about 26MWh per day was being generated, the equivalent to the average daily energy needs of 3,250 UK households.
A drop in the ocean Boot…One coal fired power station like Thorpe Marsh near where I live (now demolished) produced 1 gW plus two 28mW auxiliary gas turbines and covered a fraction of the land that equivalent solar panels and wind turbines would occupy.
Drax (still operational) produces almost 4 gW…You would have to fill Yorkshire with turbines and panels to get anywhere near…
@Omah , " something that does not exist cannot be a cut"
Obviously that is true, it is only a broken promise,(orthreat?) as the
case may be ??
@Boot, plants, particularly grass dont grow well without enough light !!
Poor light = poor crops !!



I note that the top image you posted had half of the solar panels missing ?
Due entirely to the above facts!!
Ergo, poor light= poor crops and 50% less electricity !!
Exactly …

The Foreign Secretary, firm favourite to succeed Boris Johnson, appeared to put pressure on her rival Rishi Sunak to stand down as she shared the open letter from some of her prominent backers, including Lord Frost, Defence Secretary Ben Wallace and Sir Iain Duncan Smith.

The signatories, which include ten sitting and 11 past Cabinet ministers, argued that only Miss Truss 'has what it takes' and would break from the 'tired economic managerialism of the past' in a thinly veiled swipe at the former chancellor.

They wrote: 'For us, there is only one candidate who has what it takes: Liz Truss. She has shown she will do what is necessary and right, even in the face of great adversity. In challenging times, Britain needs a prime minister who can be trusted to deliver. Liz has a clear plan to grow our economy, founded on true Conservative principles of aspiration, enterprise and freedom, which will help fund our public services and NHS. She will unleash the huge opportunities of Brexit, break from the tired economic managerialism of the past and challenge failed groupthink.'
Well, they would say that, wouldn't they …

Presumably, the Right Honourable Members know something about Truss's ability that the rest of the world doesn't …


Wonder which position they have been promised then

I liked the way the Truss plans for tax cuts to "tackle the cost of living crisis" have been described in this article as "Titanic Economics"
" It doesn't take an economist to realise that, far from "tackling the cost of living crisis", introducing tax cuts is a dire way to target support: it just adds more cash to upper middle-class families' pockets while the very poorest – many of whom pay little or no income tax – don't benefit.
Just look at the details of Truss's £30bn cut: £19bn of it would go not to struggling families, but to businesses skirting corporation tax rises. Indeed, even Truss's plan to scrap the national insurance rise would benefit the wealthiest: 85% of the £8bn cost would go to the top half of earners.
It is Titanic economics, where the country is sinking and only the rich get a life raft. "
Liz Truss mistakenly told the Cheltenham hustings she was in Derbyshire, despite the town being located in Gloucestershire.

When asked how she is going to tackle the cost of living crisis, the Tory leadership challenger told Conservative members she wants to concentrate on "lowering taxes".

Ms Truss then appeared to get her counties mixed up, saying "we need to get on with delivering the small modular nuclear reactors which we produce here in Derbyshire".

Her claim was still met with a small round of applause from the Cheltenham audience.
Truss's lack of spatial awareness is worrying - not knowing where she is has become a habit … is it a sign that her robotic brain needs retuning …